Mix Value Counting Machine. Buy at best price in Kolkata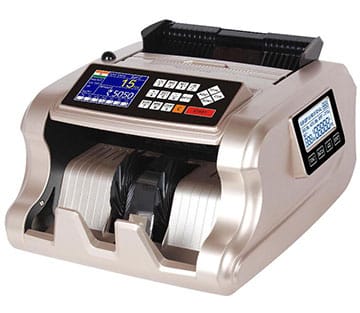 About Mix Value Counting Machine
U001 MG is a heavy duty mix value note counting machine. It is equipped with high quality UV, MG, IR & MT sensors for counterfeit detection. It will detect the most advanced Indian Fake Currencies with smooth counting. This machine designed and manufactured for robust use and ideal for banks, shops and small businesses. Updated with latest software & firmware. Compatible with all Indian Banknotes. It is a perfect machine for banks, lodgings, restaurants, builders, bullion traders, diamond merchants, traders, retails shops, hospitals, clubs, shopping malls, small office and business association where there is a need to check and recognize monetary standards it can spare time and work cost and reduce loss because of human mistake. It can check Total number of notes, Total number of notes for every group and Total an incentive for all category of monetary standards . Propelled next generation uv+mg+ir+mt+dd+3d counterfeit identification empowers exact discovery of fake notes.
Counting Speed: 1,000 bills per minutes
Hopper Capacity : 200 – 300 Notes
Stacker Capacity : 200 -300 Notes
Magnetic Detection Function (MG)
Magnetic Thread Check (MT)
Ultraviolet Detection Function (UV)
Infrared Detection Function (IR)
Size Detection Function (DD)
Compatible for all new Indian Currency
Automatic Half-note, Chained-note, Double-note detection
LCD Color change to

red

when detects fake note
Bill Density Detection Function
ADD Function
BATCH Function
Automatic Start / Stop
Auxiliary Counting Screen
Side Screen with Control Button
Dust Caps (Front & Rear)
Feeding System: Roller Friction System
Power Source: 220V ± 10% / 50HZ
Power Consumption: ≤ 75W
Machine Size : 315 X 282 X 170 mm
Net Weight / Gross Weight: 5.3Kg / 6.3Kg
If you want a quotation for this machine do not hesitate to call or email us. You can call us on
+91 99030 54543
/
+91 93398 43857
or simply fill the contact form below, we will contact you as as soon as possible.